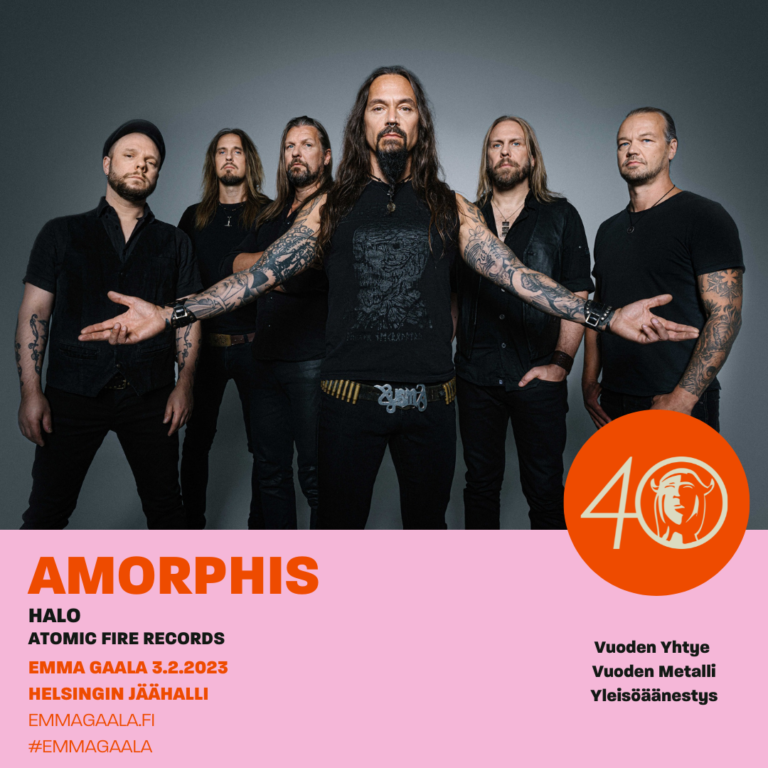 HALO



ATOMIC FIRE RECORDS



Rock and metal music have always been a haven for those who have bigger stories to tell; who have grander emotions to convey. For more than thirty years, Finnish figureheads AMORPHIS have done their best to carve their very own niche in heartfelt yet aggressive, melancholic yet soothing tunes. On »Halo«, their staggering fourteenth studio effort, the Finns underline their trailblazing status as one of the most original, culturally relevant and rewarding acts ever to emerge from the land of the thousand lakes.
In the past, mythology and legend took the role of today's pop culture: stories and a set of values uniting us by giving us a voice and a tapestry on which we can find each other and identify with something. By weaving the tales of Finnish national epos »Kalevala« into their songs and interpreting them in a timeless way, AMORPHIS combine the role of ancient minstrels and luminaries of the modern world, honouring tradition without getting stuck in the past.
The vibrant, lively, and touching beauty that is »Halo« highlights their musical and storytelling mastership on a once again soaring level: it's a progressive, melodic, and quintessentially melancholic heavy metal masterwork plucked from the fickle void of inspiration by original guitarists Esa Holopainen and Tomi Koivusaari, bassist Olli-Pekka Laine, drummer Jan Rechberger, longtime keyboardist Santeri Kallio and vocalist Tomi Joutsen, the band's longstanding lyrical consciousness Pekka Kainulainen and a selected group of world class audio professionals led by renowned Swedish producer Jens Bogren. Considering the band's prolonged journey in the forefront of innovative metal music, it's difficult to grasp how AMORPHIS manages to raise the proverbial bar time and time again, presenting a more than worthy finale to the trilogy begun with 2015's »Under The Red Cloud« followed by 2018's »Queen Of Time«.
"It really is a great feeling that we can still produce very decent music as a band," says Holopainen, a founding member of the band. "Perhaps a certain kind of self-criticism and long experience culminate in these latest albums." To the songwriter himself, »Halo« sounds both familiar and different. "It is thoroughly recognizable AMORPHIS from beginning to end but the general atmosphere is a little bit heavier and more progressive and also organic compared to its predecessor," he elaborates.
Tomi Joutsen, the man with vocal cords capable of unleashing colossal, bear-like growls as well as singing soothing, mesmerising lullabies, adds: "To me, »Halo« sounds a little more stripped down compared to »Queen Of Time« and »Under The Red Cloud«. However, don't get me wrong: when a certain song needs to sound big, then it sounds very big." He's right, of course: by stripping down some of the arrangements, the monumental moments become even more monumental.
That's of course also thanks to producing renaissance man Jens Bogren who harvested the eleven final tracks from a batch of thirty songs AMORPHIS offered him. "Jens is very demanding, but I really like to work with him," says Holopainen. "He takes care of the whole project from start to finish, and he allows the musician to focus on just playing. I may not be able to thank Jens enough. Everything we've done together has been really great, and this cooperation has carried AMORPHIS significantly forward."
Indeed. Setting off with the stormy grandeur of opener 'Northwards', AMORPHIS take us on an epic journey through the lands of the North, their rich cultural and historical heritage and musical traditions. This is not only an album for fans or metal connoisseurs. It's a must for every imaginative mind out there with a soft spot for cinematic soundscapes, triumphant melodies and breathtaking dynamics measuring the borderlands of light and dark. However, no AMORPHIS album would be complete without the imaginative and poetic storytelling of renowned lyricist and »Kalevala« expert Pekka Kainulainen. "From day one, Pekka has always been an enthusiastic and prolific lyricist for AMORPHIS," says Joutsen. "It is a slow process of translating archaic Finnish poetry into English and adapting it to our progressive rhythms. Fortunately, Pekka does everything on time and with great care." Since 2007's »Silent Waters«, Kainulainen has been navigating the mythological waters of his homeland with great skill and respect. For »Halo«, he outdid himself once again. "»Halo« is a loose themed record filled with adventurous tales about the mythical North tens of thousands of years ago," he explains. "The lyrics tell of an ancient time when man wandered to these abandoned boreal frontiers after the ice age. While describing the revival of a seminal culture in a world of new opportunities, I also try to reach the sempiternal forces of the human mind." Thirty-one years after their inception, with uncounted global tours under their belt and fourteen albums deep in their career, AMORPHIS still prove to be the musical fountain of youth, an extraordinary band constantly reinventing itself without abandoning its mystical roots. With »Halo«, they deliver an astonishing album that deserves to be played everywhere, transcending the realms of metal and rock by its sheer profoundness and musicality.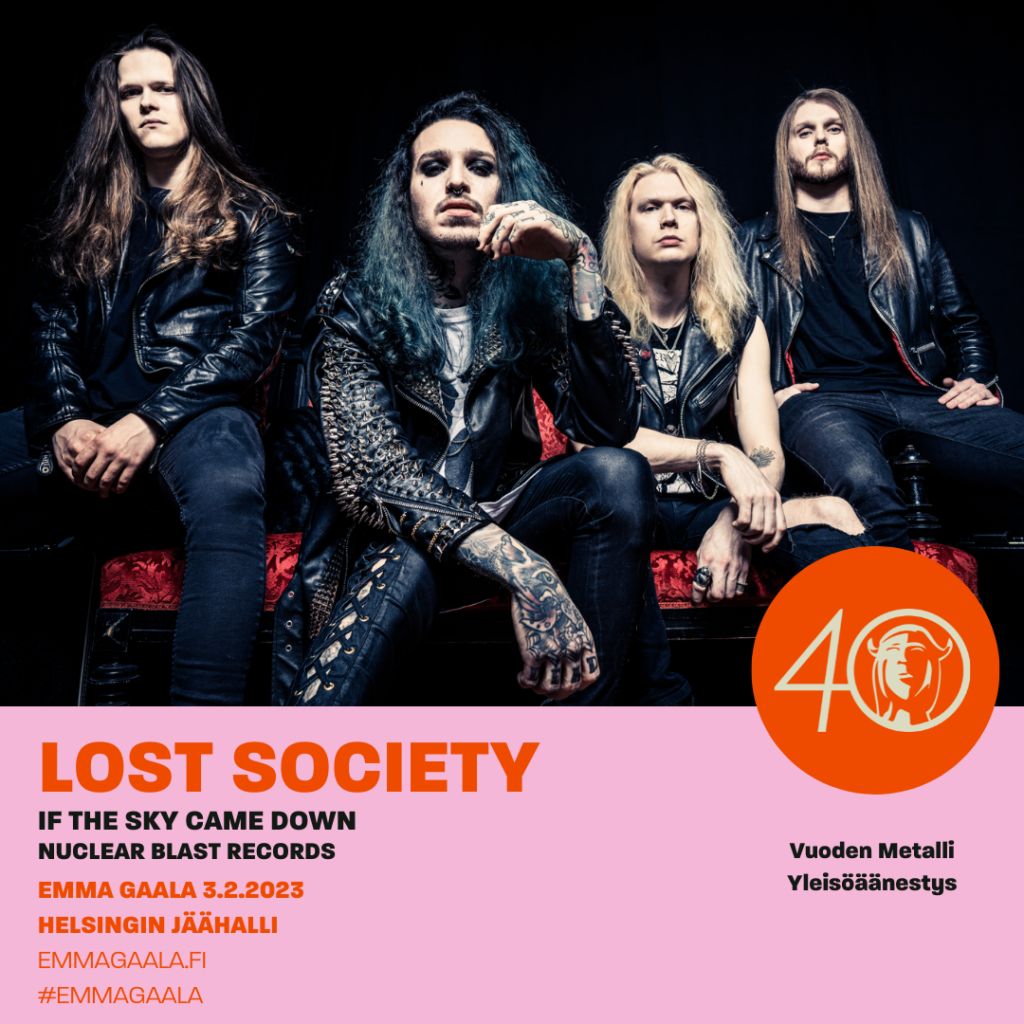 IF THE SKY CAME DOWN
NUCLEAR BLAST RECORDS



Lost Society on vuonna 2010 perustettu metalliyhtye, joka on juuri julkaissut 5. albuminsa tänä vuonna. 2022 bändi on julkaissut 3 sinkkua, joiden vastaanotto on ollut mediassa valtavan hyvä. Bändi on soittanut yli 400 keikkaa ympäri maailmaa, mm. headline keikkoja Japanissa ja Iso-Britanniassa. Uusi albumi nousi julkaisuviikollaan virallisen albumilistan 3. ja fyysisen listan 2. sijalle.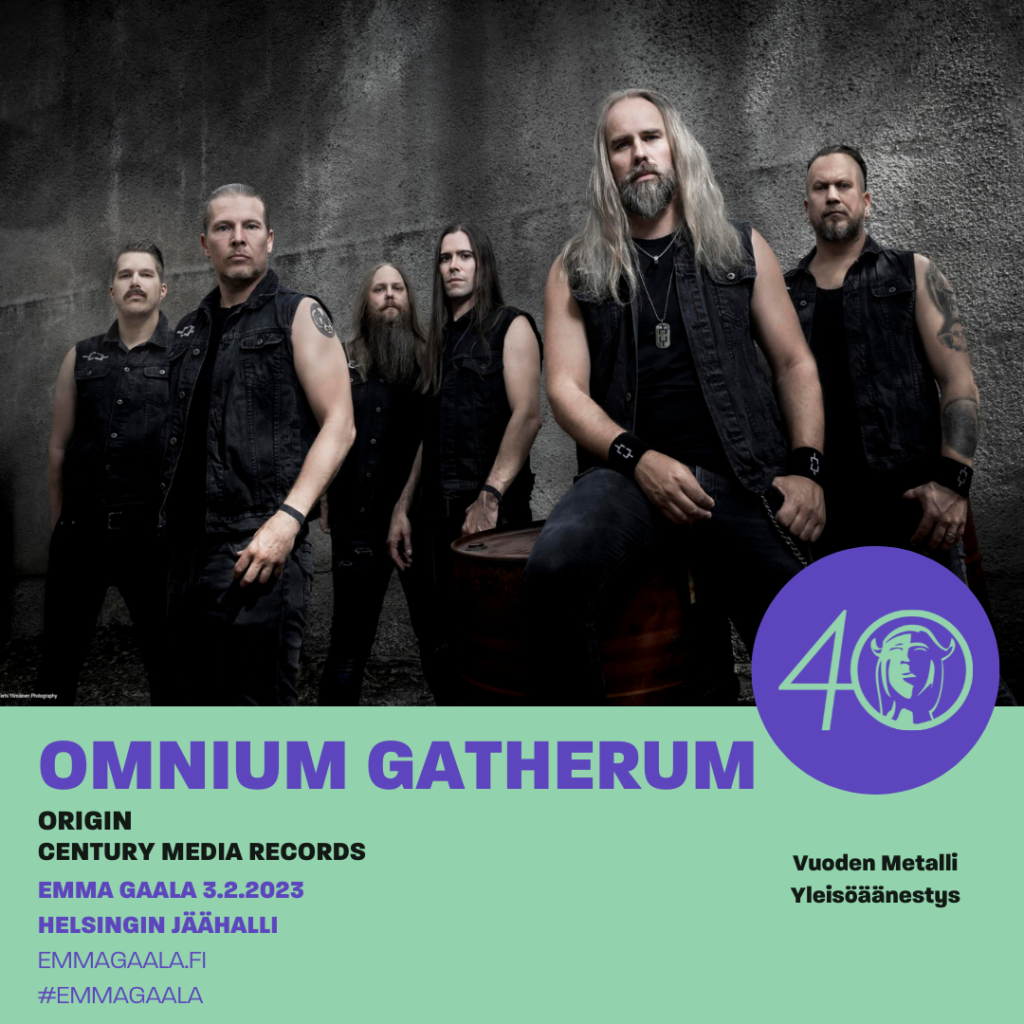 ORIGIN
CENTURY MEDIA RECORDS



Hungry for some modern melodic death metal with ridiculously catchy pop influences? Well, your dinner has just been served. This steaming nine-course setting is called "Origin" and it is honoringly brought into the table by the renowned Finnish heavy metal band Omnium Gatherum.
Omnium Gatherum – OG for close friends – has been offering remarkable pieces of melodic death metal for already twenty- five shining years. While storming through these ferocious decades, Omnium Gatherum has convinced worldwide legions of heavy metal lovers by releasing unstoppable musical onslaughts and touring relentlessly all over the world.
"Any sort of popularity hasn't come overnight for OG, and rising to that "next level" has sometimes taken a considerably long time, but one thing has been set in stone: progress has been inevitable. In other words: a lot of great things have happened along the way but the journey hasn't been the easiest one", says longtime singer Jukka Pelkonen.
… And recent times are no exception. Contrary to what you might think, we are not talking about a global scourge that gripped the entire world about a year and a half ago.
"Although most of the things around "Origin" have been really good – we have never had so much time to compose and sharpen the material for instance –, there have been some serious roadblocks as well. This, of course, has not come as a big surprise as OG was not born under the happiest stars", laughs guitarist extraordinaire and the band founder Markus Vanhala.
"Above all, our dear fans should know that since the previous studio effort "The Burning Cold" (2018), half of the band's line- up has changed. I would say quite surprisingly as we haven't really had any major problems, at least to my knowledge."
"This internal turmoil lifted dark clouds into the band's vast sky and everything was falling apart… well, for a few hours at least. After that, as many times before, we decided to turn these difficulties into something better!"
Before the arrival of "Origin", Omnium Gatherum's colourful discography features eight studio albums, but the newcomer does not pale in comparison. The truth is, in fact, quite the opposite… By the stylish, majestic and melodic splendor of "Origin", it really feels like the band's original style called AORDM – adult oriented death metal – has reached its peak. Well, so far…
"Over the years, OG's material has been deliberately moving further away from the anxiety of the windy Northern shores and traditional melodeath's gloomy despair. These days our music is a powerful mixture of older deadly roots and newer AOR-vibes that you get while listening to Survivor and driving a Corvette along the sunny shores of Miami!"
As "Origin" was taking some serious shape, Omnium Gatherum's line-up was completed by the addition of renowned musicians Mikko Kivistö (bass) and Atte Pesonen (drums). In terms of guitar parts – both majestic riffs and tasteful soloing –, Markus Vanhala took good care of them all. And for the first time ever, the guitarist sang a large part of the album's clean parts as well.
"I've recently heard strange rumors that the guitar is out of date as an instrument… So as a stubborn and old-fashioned bloke, I have played guitar a lot more than for many years. And those vocal parts? I just decided to learn some singing", laughs Vanhala.
For the actual recording sessions, Omnium Gatherum entered Helsinki's famous Sonic Pump Studios (Amorphis, Wintersun, Stratovarius).
"Well, it has been a while… "Origin" remains as the first album since "Years In Waste" (2004) that we immortalized inside Sonic Pump. Our latest sonic assault was recorded by the world-class engineers Nino Laurenne and JC Halttunen. It was absolutely wonderful to work with these meritorious gentlemen", sighs Pelkonen.
"After the recordings, "Origin" was mixed by Swedish master of heavier sounds Jens Bogren. When the work was carefully crafted, Jens gave us a gratifying comment: "Releasing an album full of great songs is not easy these days… But you guys have achieved that goal with "Origin" – there simply are no fillers!", recounts Vanhala
"Before the mixing began, we actually instructed Jens that we really don't want a modern metal sound, but "Origin" should turn out to be like a melodic death metal version of Def Leppard's classic "Hysteria". And when we started getting the mixes, huge smiles spread across our faces… Jens and mastering engineer Tony Lindgren nailed the sonic goals perfectly!"
Let's still take a look at one side of the new album… "Origin" is a strong title and it can refer to many different things. What do you mean by the record's title?
"If you don't mind, I could crawl into the meaning of "Origin" by telling something about the album's entire lyrical concept", insists Pelkonen.
"So the album's diverse lyrics make a winding journey into the human's mind – somewhere deep where "depth" and "height" meet – and with the help of these songs, I am trying to uncover some of the mysteries of a person's inner self. So, after all, the title of the album comes from these studies of the origins of the mind."
"On the other hand, "Origin" also refers to the fact that no matter how many challenges and obstacles come in front of us, we will not forget the original enthusiasm for playing heavy metal… And therefore we will never give up!"
"Origin" landed #5 on the official Finnish all music chart on the release week. Soon after that the band announced Nick Cordle (ex-Arsis, Sanctuary and Arch Enemy) is the official new member as the band's 2nd guitarist.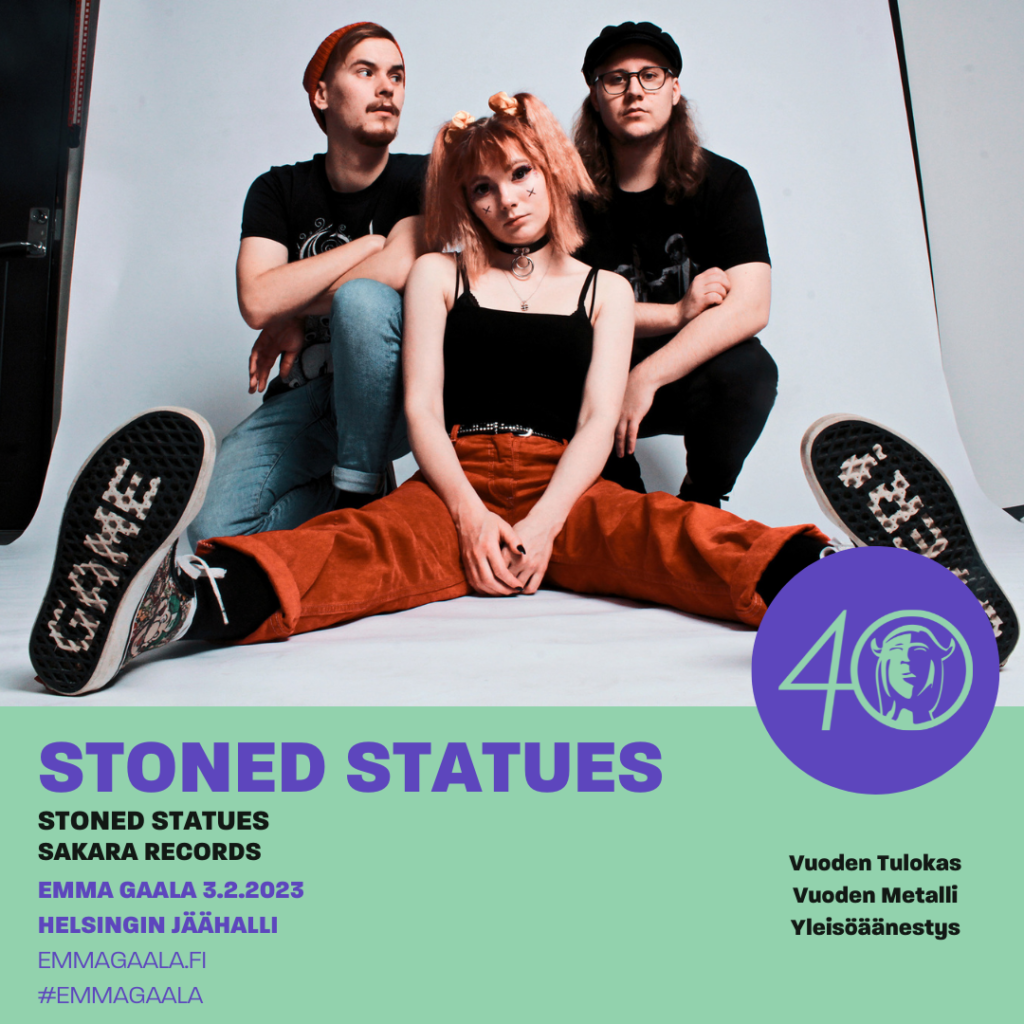 STONED STATUES
SAKARA RECORDS

Sakara Recordsin tuorein kiinnitys, Stoned Statues, julkaisi huhtikuussa 2022 debyyttialbuminsa Stoned Statues. Yhtyeen musiikki on yhdistelmä punk-asennetta ja alternativemetallia tarttuvilla laulumelodioilla. Albumin sävellyksistä vastaa koko yhtye ja sanoituksista laulaja-basisti Jenna Kosunen. Albumin on äänittänyt Jere Isberg, miksannut Miitri Aaltonen ja masteroinut Mika Jussila. Stoned Statuesin musiikki on yhdistelmä punk-asennetta ja alternativemetallia tarttuvilla laulumelodioilla
Stoned Statuesin tarina starttasi vuonna 2019, kun lapsuudesta asti yhdessä musiikkia tehneet 22-vuotiaat Allu Tanskanen ja Markus Hakala tapasivat ikätoverinsa Jenna Kosusen Ahlmanin musiikkilinjalla Tampereella. Yhtye treenasi tiiviisti ja alkoi buukkaamaan keikkoja itse ympäri Suomen. Lukuisten soitettujen iltamien jälkeen yhtye sai slotin Smuggler Rock -festivaaleilta, jossa yhtyeen keikka vakuutti paikan päällä olleen yleisön, muut esiintyvät artistit ja muutaman musiikkitoimittajan; puskaradion kautta saaman hehkutuksen kautta Sakara Records päätyi sainaamaan bändin nopeasti.
Debyyttialbumi sai Soundi-lehdessä täyden 5/5 -arvosanan; "bändin otteissa on voimaa, vimmaa, groovea, dynamiikkaa ja tarttuvuutta. Popahtava kertosäe voi vaihtua lennosta rushmaiseen progeiluun tai djent-jyystöön, mutta kaikki tapahtuu sulavasti ja luontevasti. Sävellys- ja sovituskynän terävyydestä kertoo myös se, että biisi kuin biisi toimisi myös instrumentaalina", arvio Vesa Siltanen.
Stoned Statues keikkaili debyyttialbuminsa tiimoilta ympäri Suomen lähes kaikilla suurilla festivaaleilla, mm. Rockfestissä, Provinssissa, Tammerfesteillä, Qstockissa, Kuopiorockissa, Knotfesteissä, Lost In Musicissa, keräten live-esiintymisistään pelkästään hehkutusta ulkomaita myöten.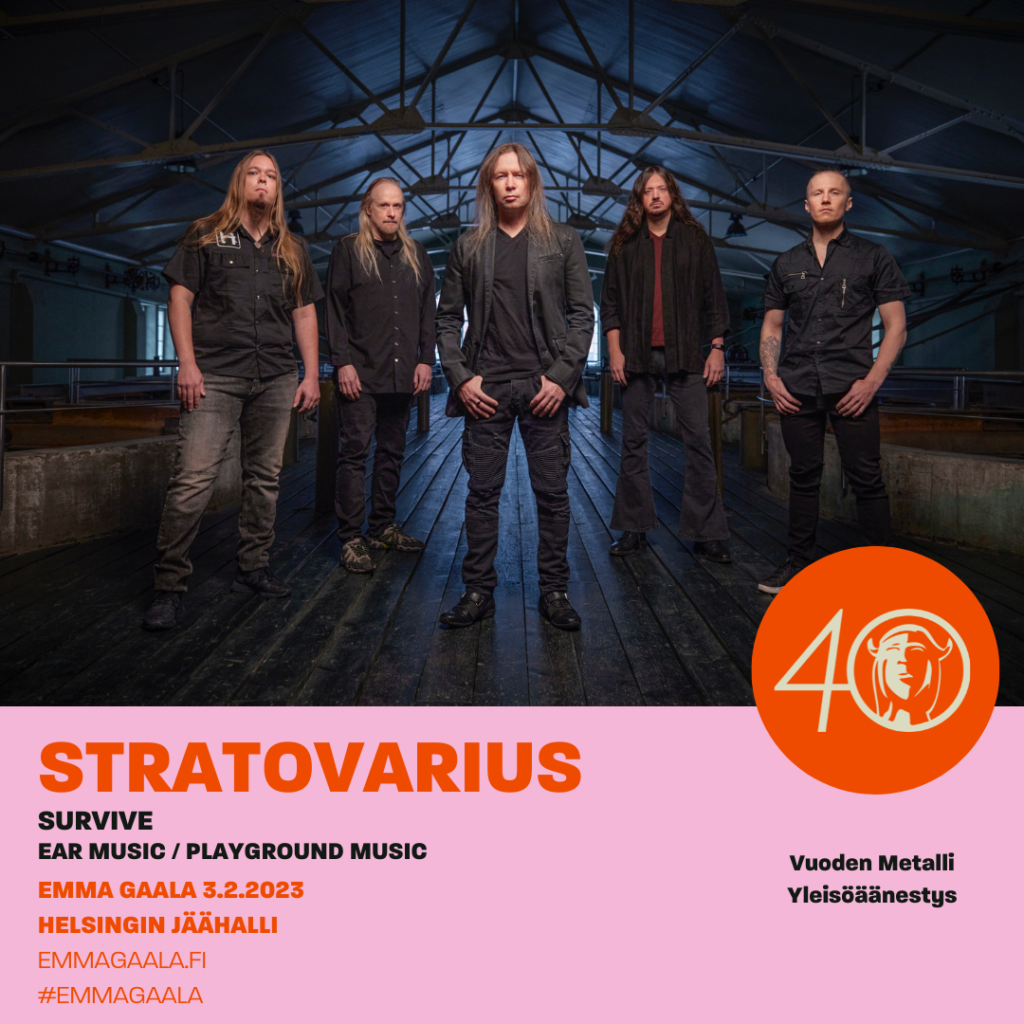 SURVIVE
EAR MUSIC / pLAYGROUND MUSIC



Stratovarius on power metallin lippulaiva ja yksi genrensä tunnetuimpia yhtyeitä.
Suomalaisyhtye saavutti kansainvälistä menestystä "Fourth Dimension"-, "Episode"- sekä eeppisillä "Elements, Pt. 1"- ja "Elements, Pt.2" -albumeilla. Vuonna 2009 julkaistu 'Polaris' merkitsi yhtyeelle uutta alkua, ja Stratovarius osoitti olevansa huippukunnossa ja täydellisesti kykenevä valloittamaan ihmiset ympäri maailmaa: Albumista tuli suuri comeback, ja se nousi listoilla ympäri maailmaa vielä korkeammalle kuin aiemmat julkaisut. Sittemmin Stratovarius on jatkanut menestyksen tiellä ja inspiroinut faneja ja muita bändejä, niin nuoria kuin vanhoja, ympäri maailmaa. 
Yhtyeen uusi ylistetty albumi "Survive" ilmestyi 23. syyskuuta, ja se sijoittui Suomen albumilistojen kärkeen.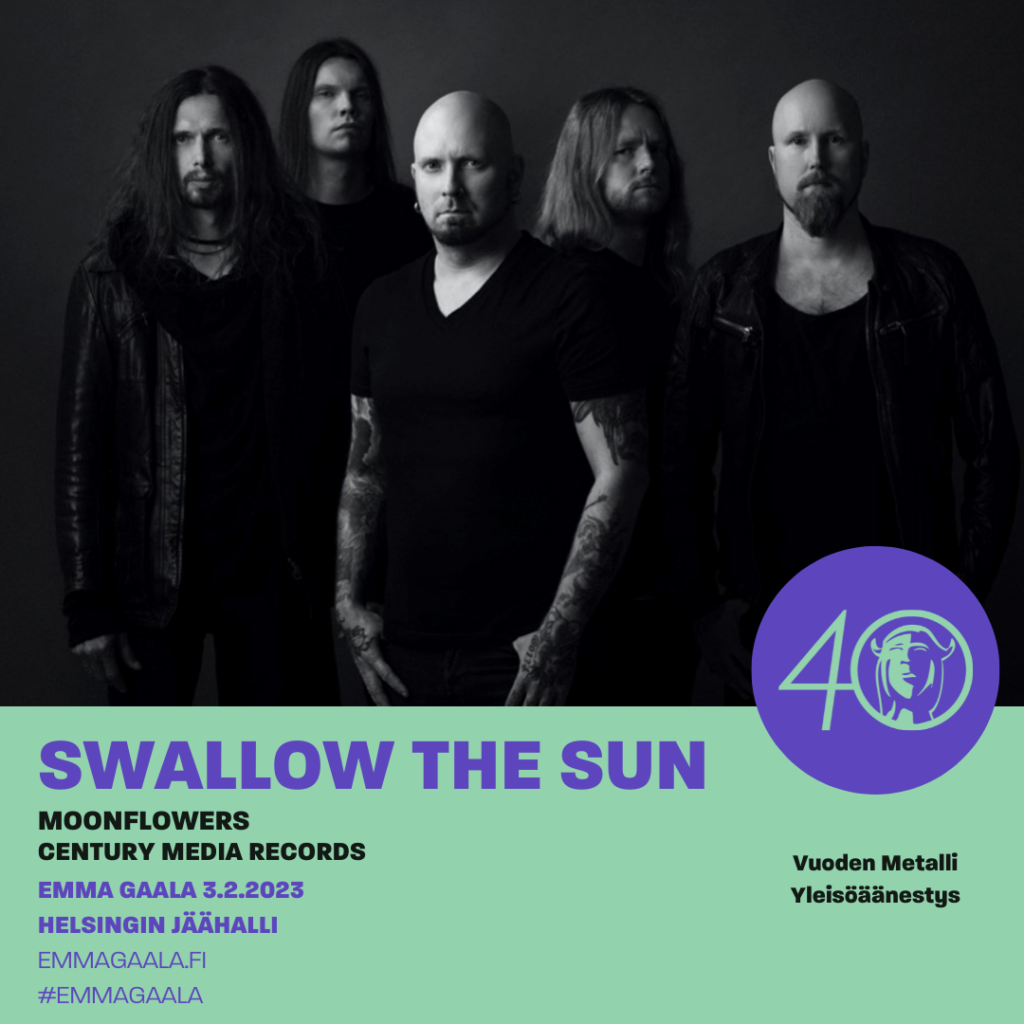 Kuvaaja: Jussi Ratilainen
MOONFLOWERS

CENTURY MEDIA RECORDS

Finnish torchbearers Swallow the Sun have returned from the darkest corners to enchant us once again with brand-new full-length, Moonflowers. The much-anticipated follow-up to the group's straight-to-#1 (Official Finnish Albums Chart), Emma Gaala-nominated (Finnish Grammys) When a Shadow Is Forced into the Light (2019) supersedes previous lodestars "Firelights," "Stone Wings," and "Lumina Aurea." If Swallow the Sun couldn't get any heavier emotionally, Moonflowers piles on markedly. Across the 52-minute effort, primary songwriter Juha Raivio spills everything he's got into songs like "Moonflowers Bloom in Misery," "Enemy," "Keep Your Heart Safe from Me," and riveting album-capper "This House Has No Home." Likewise, the artwork for Moonflowers is complementary in its tragic heft. Instead of commissioning the album art to an outside party, Raivio used dried flowers he had collected as well as his own blood to paint the moon that adorns the starkly graceful cover. Moonflowers is yet another downhearted triumph for Swallow the Sun. 
Formed in Jyväskylä in 2000, Swallow the Sun have amassed an impressive eight-album discography over their 20-plus journey. Debut The Morning Never Came (2003) kicked off the Finns' funereal procession. Still, the power of Ghosts of Loss (2005) and the artistic expanse of chart-topping EP Plague of Butterflies (2008) launched the Raivio-led outfit onto the international stage. Always reticent but remarkably courageous, the Finns then embarked on an impressive 800-show run across four continents since emerging from the shadows. They've also tackled scoring ballets, released ambitious concept albums (Songs from the North I, II & III), and engaged their fanbase like few others (20 Years of Gloom Beauty and Despair Live in Helsinki). The ambit of Swallow the Sun's undaunted artistry is tested again with Moonflowers. 
So deep are the wounds from which Moonflowers surfaced that Raivio is loath to talk about it at any length. His only statement is bereft of fustian import: "I know well that I should not say this, but I deeply hate this album. I hate where it takes me, how it makes me feel, and what it stands for me. I wish it wouldn't. But for all its honesty, I got no option than also [to] love it. That is all that matters to me with the music anyway. It doesn't matter how it makes me feel, as long as it does." Indeed, the heart of Moonflowers is its ability to impress. From the grim "This House Has No Home" (feat. Stam1na's Antti Hyyrynen) and the dramatic enclosure of the "Enemy" to the delicate "All Hallow's Grieve" (feat. Oceans of Slumber's Cammie Gilbert) and the beauteous "The Fight of Your Life," the Finns' latest long-player is as rewarding and dynamic as it is accomplished and intimate. 
Written by Raivio in autumn 2020, Moonflowers continued its mellifluous voyage with instrumental versions. Instead of electric guitars, Mikko Kotamäki's sorrowful croon/monstrous growl, and Swallow the Sun's traditionally oppressive edifice, the songs transformed into something else entirely when re-arranged for strings and piano. The bonus instrumental album to Moonflowers was performed by Finnish string outfit Trio NOX at a Medieval church in Sipoo, Finland. They're the perfect accompaniment to the pensive, emotive metal contained in "Keep Your Heart Safe from Me," "The Void," and "Woven into Sorrow." Perhaps the Trio NOX-played songs initially served as curiosities but were ultimately therapeutic for Raivio.
Moonflowers was tracked, mixed, and mastered across several studios. Guitarist Juho Räihä took the helm on death vocals, guitars, bass, and strings at his SoundSpiral Audio (Wolfheart, Before the Dawn). At the same time, producer David Castillo handled drums and clean vocals at Ghost Ward (Leprous, Katatonia). The completed recordings were then shipped off to Jens Bogren to mix and Tony Lindgren to master at Fascination Street Studios (Sepultura, Carcass). The Trio NOX recordings were also captured (live) by Räihä at SoundSpiral Audio. While Swallow the Sun have always enjoyed towering productions, Moonflowers is particularly epic in its pandemic-era stature and picturesque range. 
As the year closes in, Swallow the Sun will release Moonflowers. No doubt the Finns will astonish once again, building on the master strokes of "Firelights," "10 Silver Bullets," "Cathedral Walls," and "Falling World" with all their trademark craftsmanship and tenacious work ethic. Moonflowers will add to the group's fan-lauded music videos (5+ million YouTube views) and streaming dominance (10+ million Spotify plays), but most importantly, it'll connect as ever before Swallow the Sun's diehard fans to Raivio's very visible anguish as it steeps pervasively across "Moonflowers Bloom in Misery," "Keep Your Heart Safe from Me," "Enemy," and "All Hallow's Grieve." The supporting animated videos—eight in total—by Dronicon Films (Aleah, Thenighttimeproject) were closely supervised by Raivio and serve as visual indicators of the songwriter's broken-hearted enterprise.